I was in an Uber crash. Who is responsible? What happens?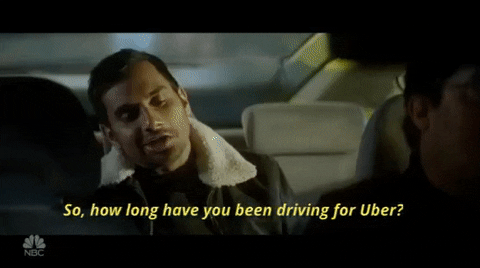 Uber is a reasonable solution for many us today.  Whether you are hiring an Uber driver because you want to avoid a DUI/DWI, or your household has only one car and you have to get somewhere quickly, or you are on a trip and would rather use Uber than rent a car, more and more people continue to use Uber's services. If you are in a car often, whether it be Uber or your own, the odds of you being involved in a car accident increase.  So what happens if you are a passenger while using Uber?  So what happens if you are involved in a cash with an Uber vehicle?
Like any other accident, you should wait for the police to respond to the scene of the accident.  Make sure that the responding police agency gets your details and the details of all parties involved (including Uber).  If any sort of insurance agent responds to the scene of the incident, do not speak to them directly (only speak to the police officer). Take pictures of the scene of the incident, pictures of the vehicles involved and picture of your injuries.  If you are injured, make sure that you seek medical treatment. This may include being attended to by paramedics, going to the emergency room, going to urgent care, or any other physician that may treat your injuries. Make sure that you call your insurance company and let them know that you have been involved in an accident. If you have your own car insurance (PIP) you can start to treat your injuries with the $10,000 in PIP benefits that is available to you. Also call or email Uber and let them know of the car accident. 
It is important to note that Uber drivers are not Uber employees, they are independent contractors. With regard to handling a personal injury lawsuit, the difference between employees and independent contractors determines the amount that Uber will pay to settle the claim. A local personal injury attorney such as Olga Porven will work diligently to make Uber share the responsibility for an at fault driver.
Uber's current policy limits are as follows:
If you are involved in an accident between the Uber driver picking up passengers (in-between fares, Uber's insurance carrier will pay the claim (obviously after determining if there is liability or if you are really injured) if the driver's own automobile insurance policy refuses to pay or pays nothing;
There are $1 million dollars of coverage for uninsured/underinsured (UM) motorist per accident (this means that all involved must share the $1 million) for Uber passengers when another vehicle is liable for the accident;
More likely than not ALL of the insurance companies (yours, Uber's, the driver's, etc.) will likely want to speak with you regarding the incident.  Currently, James River Insurance Company insures Uber drivers and their vehicles. The issue is that all of the insurance companies are working hard to avoid responsibility and pay out claims.  Accordingly, they will try to get all detail about the incident and your injuries to make sure that they avoid responsibility and any sort of future claim that you may make.  That is why it is so important to involve a local personal injury attorney as soon as possible to handle the matter.  If you retain an attorney, the attorney will directly deal with all conversations with all insurance companies.  If the insurance company(ies) want to take your statement, your lawyer will prepare you for the statement or refuse the statement all together.  In sum, your attorney will make sure that your rights are protected.
If you are injured in such a car accident, you may be entitled to compensations for your injuries, medical charges, lost wages, pain and suffering, etc. You need a car accident lawyer like Olga Porven who is ready to take on a case against Uber in Pembroke Pines, Miramar, Hialeah, Davie, Fort Lauderdale, Miami Lakes, Cooper City, Hollywood and Miami Gardens. Olga Porven, Esq., an attorney with Olga Porven, P.A., is a former insurance defense attorney. She is well aware of what the insurance companies are capable of and has the experience in dealing with insurance companies to help you obtain potential compensation in your case. Contact, Olga Porven, P.A. for a free consultation. We will gladly speak to you regarding your personal injury matter.




Please reload