How do I Prove the Other Driver was Texting?
So you were involved in a car accident in South Florida (Miami-Dade, Broward, Pembroke Pines, Miami Lakes, Hialeah, Miramar, or Davie) and you know that the other driver was texting because you saw them.  Or you don't know, but you suspect they were texting and driving.  However, hindsight is 20/20 right? You didn't know they were going to crash into you so there is no photographic or video evidence that they were texting.  What do you do?
The truth is even though Florida has made texting a crime (but only if they stop you for something else like not wearing your seat belt or speeding) more and more people continue to text while driving. Unfortunately the consequences of texting and driving have proven time and time again to be dangerous and even deadly. Just recently, April 2018, the National Highway Traffic Safety Administration (NHTSA) kicked off National Distracted Driving Awareness Month hoping to motivate officers nationwide to look for drivers texting and driving behind the wheel.  The NHTSA data shows that at least 3,450 people were killed in 2016 alone due to texting and driving.NHTSA also found that:
Nine percent of fatal crashes in 2016 were reported as distraction-affected crashes.

Six percent of all drivers involved in fatal crashes were reported as distracted at the time of the crash.  

Nine percent of drivers 15 to 19 years old involved in fatal crashes were reported as distracted. This age group has the largest proportion of drivers who were distracted at the times of the fatal crashes.

In 2016, there were 562 non-occupants (pedestrians, bicyclists, and others) killed in distraction-affected crashes.

In 2016, 70 percent of the distracted drivers in fatal crashes were male, as compared to 74 percent of drivers in all fatal crashes.

Hand-held cell phone use while driving is highest among 15- to 29-year-old drivers. 

Female drivers with a cell phone have been more likely to be involved in fatal distracted-driving crashes as compared to male drivers every year since 2012
The reality is that no phone company or carrier is going to give you a copy of their client's cell phone records.  Only an attorney with the power of a Court Subpoena can request those records. That means that in the pre-litigation (before filing a law suit against the other driver) your odds are slim to none to obtain any cell phone records.  Those records will only be accessible once your attorney requests them.
If you or a loved one have been involved in a car accident or crash and have been injured because of other person's negligence, call us to discuss your potential case. As a part of all of our motor vehicle cases, we research and move to obtain the drivers' phone records to make sure that there was no downloading of information, texting, etc. while driving. We look forward to hearing from you.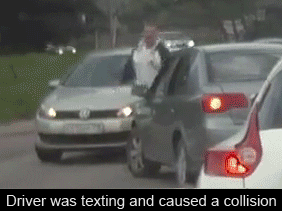 ​




Please reload